Getting into the Swing of Things—Swingers Rules 101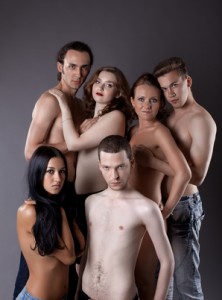 Dictionaries define a 'swinger' as a person who involves in promiscuous sex with friends, colleagues or strangers—and yet promiscuity is not actually the object of the exercise. Swinging is not about promiscuity, nor is it about frivolously partaking with others for sex. There is actually a quiet dignity and a very highly standard of respect amongst swinger communities and swinging is more to do with permissive sex and mutual enjoyment with other consenting adults.
Getting an Invite and What to Do
Ok, so it is pretty unlikely that one of your neighbors is going to drop an invite to a swingersparty on your doorstep just on the off-chance you can attend. Most people are far more discreet than that and there is a very strong sense of etiquette when it comes to sub-cultures like swinging.  If you are already part of a swingers community and enjoy the lifestyle you might attend parties at people's homes or at sex clubs or private venues. Generally, the etiquette involves the sending of the invite and an RSVP due date. This can be anything from two weeks from receipt to two months, depending on the sender. Make a note of the date by which you are expected to reply because if a party is at someone's house space can be limited.
We don't need to tell you about timing but, out of politeness, never arrive more than ten minutes late. There are some extenuating circumstances that allow for different arrival times, however, and those are usually at the hosts' discretion. For instance, on the invitation it may state '7.00pm Prompt'. Therefore you are expected at 7.00pm sharp, no excuses. If the invitation says 7.00pm for 7.30pm this indicates that you can arrive around 7pm for an official 7.30pm start, giving thirty or so minutes for people to get acquainted. In those instances timing is not so strict, but again, don't get there any later than 7.15pm. Don't forget to make a mental note of where and how to park, as per your hosts' instructions.
On the subject of arrival and departure, if you are bringing a guest, partner, wife, husband or significant other make sure you leave with them at the end of the night. It is generally frowned upon if couples swap over and go home with each other's partners. If you wish to do this, be discreet and all leave at the same time and the swap when you get out of sight.
Manners and Behavior
We strongly urge you to observe all rules laid out by your hosts, no matter where the sex party is being held. Manners are vital and if you are rude or inconsiderate you will be asked to leave and not return. Being a solid member of the swinger's community is important for your reputation within it. One faux pas and you could be on your derriere.
What you won't find at a Swingers club, sex club or private party is people bandying about their privates for the world to see. Discretion is key and be decent toward others. Another thing to remember, and this is really important, 'no means no' and therefore if you are politely declined from an invitation walk away smiling. These are not the kinds of places where it pays to get all butt hurt if someone says no. You are not going to appeal to everyone, so just say thank you and find someone else. Coming across as desperate will not win you any votes eithers, so just be polite, charming and calm.  Always ask before you put your hands on someone. Not only is it rude but it is also invasive. Don't take someone by surprise and shove your hands on their ass or boobs. Walk up and politely ask if they are interested in pursuing some mutual enjoyment—or something like that—and wait for an answer. Again, if they say no, nod and walk away.
A Person of Substance
When it comes to sex parties, sex clubs and swingers clubs the general rule of thumb is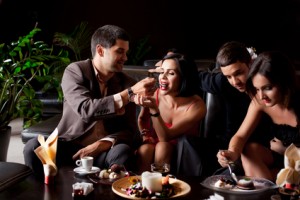 that you must not bring any illegal substances, drugs or alcohol with you. Nor should you show up inebriated or high. That is just rude and completely disrespectful to the host and yourself.  Many parties will be 'BYOB' which means 'bring your own bottle' and some sex club venues might charge a cork fee (but not all do this).
With regard to food and drink, you will also find that there are designated areas just for that, so don't take food and drinks outside of those areas.  The same applies to smoking, if the venue or home is a smoke-free place, do not break the rules.
Getting Involved for the First Time
As this is a '101' style lesson we are talking about newbie stuff. If you are new to the swinger's scene and have yet to join a sex club or be invited to a party, we are here to help with everything you need to know.
Your first time in a sex club can be daunting but we can offer some help there too. You might be a little unsure about going by yourself and with that in mind, you can try SwapFinder to find local people who might want to attend with you. Buddying up with someone doesn't mean you have to 'play' together if you don't want to, but sometimes it's just nice to have a partner you can bounce ideas off and just give each other a little Dutch courage.  Check SwapFinder for people in your area and make contact with them to find someone to 'chum' you along to a sex party.
Once you are the sex club, be aware that most people are part of a couple and you shouldn't go charging hell for leather at one half of the couple to get some 'play' in. That will be an epic fail and could get you tossed out. Instead, approach them both, be chatty and polite and friendly but also, before you do, make sure they are not already 'busy'.
On the subject of busy couples, don't go room-hopping, either. People who walk down the hallway throwing bedroom doors open and checking out whose in there is very disturbing to those already 'at it', so be thoughtful and don't open doors.
And, Finally…
Before we finish up, we will list a few of the rules of etiquette to give you an idea of how to behave before to go to a sex club or swingers party for the first time.
Bathe or shower before you go and make sure you are extremely clean and fresh-smelling
Dressed to completely impress—even though you might not be wearing your clothes for very long
Wear a fragrance that is subtle and not overwhelming, unless directed by the host to wear none
Arrive in a timely manner and respect the rules of the house, sex club or venue
When engaging in a threesome respect both partners and make sure you don't leave one out
Arrive and leave with the same partner you attended with
Keep your breath clean and don't eat garlic, pepperoni or onions before you attend!
As a first timer try to be confident even if you don't feel it
Don't get hurt if someone turns you down, move on
Respect the area, the sex club or the home of the host and leave everything as you find it
That's about it really, except to say that you are there to enjoy the experience, so just have fun!!
Share and Enjoy